Bill Gross is often called the bond king. He got that nickname because of his skills in the financial world, but his true passion is blackjack. He started playing the game when he was young, and ventured to Vegas when he had made a bit of money for himself.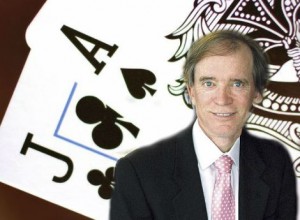 His first Vegas adventure came when he was just out of college. With his Duke University degree completed, he took $2,000 to Vegas in the hopes of doubling that money. Four months later he came out of the gambling capital of the world with $10,000. All of that money was made by counting cards and playing blackjack. He did get kicked out of a few casinos, but that was part of the risk.
He still credits his blackjack background for helping him in the financial world. "I learned about taking risks, about how numbers are always the best way to success, and that enough hard work can beat any system," he said.
His experiences in Vegas taught him that it was not all about taking gigantic risks. Most of his card counting adventures involved small sums of money. He would play patiently and build up his money over time, instead of playing three or four huge bets. This ideology helped him in the financial world, where he managed bond funds for many years.
Gross spent some time in the military. He was stationed in Vietnam after his exploits in Vegas. Business school at the University of California LA followed, but Gross was already growing tired of school. He believed that life experience was a lot more important than a college education. He is quoted as describing college as "a four year vacation that gets interrupted by occasional periods of serious studying and essay writing."
He may be famous for his exploits on Wall Street, but Bill Gross will also be remembered for his exceptional ability to win at the blackjack tables.
For more on this story, click here.